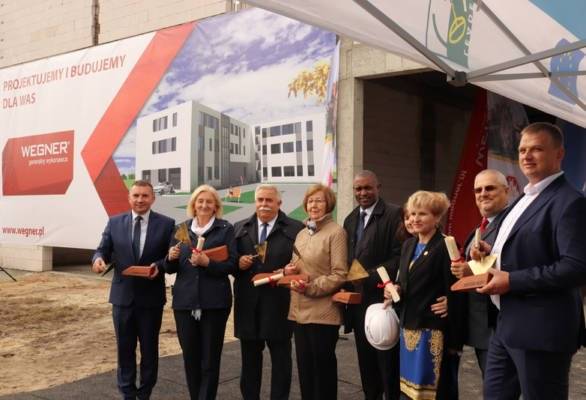 On Friday, September 28, the ceremony of laying the foundation act for the construction of a new building for the Technical School Complex named of E. Kwiatkowski in Grodzisk Wielkopolski.
The event was attended by, among others Chairwoman of the Wielkopolska Regional Assembly Zofia Szalczyk, Education Vice President Krzysztof Błaszczyk, Director of the Department of Education and Science of the Marshal Office of the Wielkopolska Region Dorota Kinal, Member of the Polish Parliament Killion Munyama, Representatives of the Local Government Poviat of Grodziski Poviat, Organizational Units. PKOB Wegner was represented by the President of the Management Board - Mr Bartosz Golis.
- We are convinced that the expansion of the Technical Schools Team will not only improve the school's functioning, but will also noticeably affect the quality of the classes conducted here, and the General Contractor will make every effort to build the foundation for which we have laid the cornerstone today said Mr Bartosz Golis, the President of the PKOB Wegner Management Board.
The Technical Schools team will be able to accommodate a larger number of students thanks to the construction of a new building, thus creating new jobs for teachers. We adhere to all the projects entrusted to us, but we approach the educational buildings with particular care, because we know that they are an investment not only for young people learning here but also for our future.