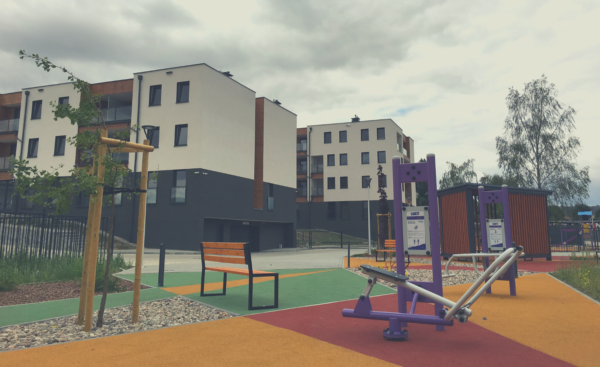 The Wegner company has completed another Gniezno investment. The city of Gniezno commissioned work on the construction of municipal facilities at Cymsa Street. The design, using the natural terrain, adapted the land difference and enabled the creation of impressive entrances to the garage parts.
For residential buildings at Cymsa st. consists of a senior block - equipped with a trolley, a drying room and a common room as well as a communal and social block - with a boiler room, commercial and service premises, a bicycle room and a drying room. Both buildings have underground garage floors. The senior building houses 26 flats, 46 communal and social flats. Flats located on the upper floors have loggias, one-story houses are decorated with windows in the form of wallets.
The investment project also included the development of the area surrounding the facilities. The effect of this recording is the implementation of a playground lined with polyurethane to increase safety. The recreational part is completed by fitness equipment and a covered gazebo - intended for community use.
Nearly 18,000 are waiting for future tenants square meters of space - we hope that it will give them as much joy as we are proud when commissioning the investment.