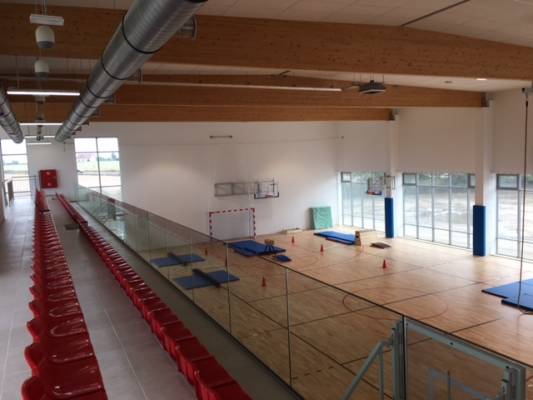 Today officially opened it was completed in the last new building of the Primary School implemented for the Commune of Kłecko in Dębnica.
The basic element of the expansion was a salamiport together with the facilities. The link between the room and the existing building houses additional didactic rooms and general-purpose rooms, which will undoubtedly improve the quality of education in this facility.
The designed connector was added perpendicular to the school, on the extension of the corridor in the existing building. In the coupler, four additional classrooms have been designed with offices - back-up facilities that allow the rooms to be used also as a workshop. The connector has been provided for the exit to the school playground, where after the construction was completed a new impressive courtyard with benches and greenery.
The sports room built with PKOB Wegner together with the facilities will be a multi-purpose room, also used for other purposes - eg speech therapy or sensory therapy and for physical activity such as dance, artistic gymnastics, and theater activities.
The sports hall itself has a full-size basketball court, ie 15 x 28 m with a car belt. Arranged for volleyball (full-size) and handball. The backroom consists of two locker rooms with washrooms, a trainer's room, first aid room and sports equipment magazines. In the upper part of the sports hall there are seats for 158 seats.