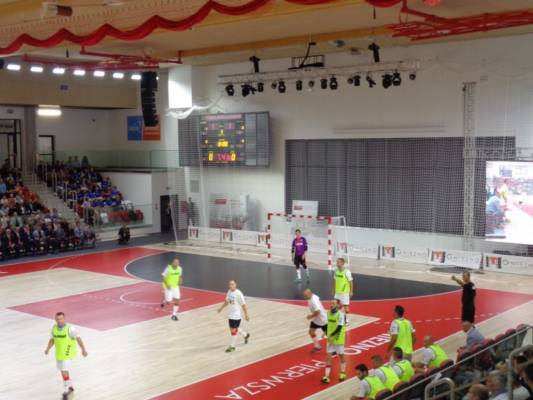 Today the facility built by us for GOSiR Gniezno was officially opened.
The new facility is a hall with external dimensions: 86.29x67.99 m. It is an object adapted to the needs of disabled people. The building area is 5,100.00 m2, and the volume of 37,500.00 m3. On the main stage of the hall there is a grandstand for 1200 seats and a place for 300 additional fold-out seats.
The facility has pitches allowing rivalry among others in volleyball, basketball, handball, futsal, badminton. The main arena was constructed in such a way as to simultaneously fulfill the function of a spectacular hall. The stage space has been equipped with professional sound system and effect lighting.
The facility also has a gym, fitness, cafeteria, modular conference room, squash courts, 8 cloakrooms, and a whole range of club and office rooms for hall, social, warehouse and technical administration.
There are 112 parking spaces for passenger cars and three places for buses in front of the building.
The facility has two light scoreboards (main and auxiliary), CCTV monitoring, as well as sound and effect lighting allowing to handle games in team sports such as basketball, futsal, volleyball and others.
Today the place had the official sports opening of the hall we built. The viewers had the opportunity to see the object completed by us and watch the first sporting event - played among others basketball, handball and futsal match, and PKOB Wegner had the pleasure of patronizing this event.