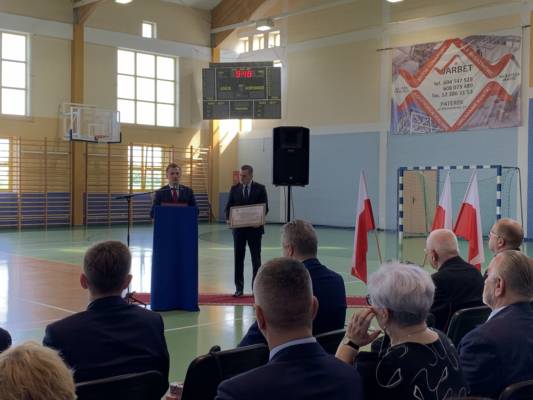 The official opening of the school building, implemented for the Nakło commune in 2017-2019, is behind us. The ceremony was attended by, among others Secretary of State in the Chancellery of the Prime Minister - Łukasz Schreiber and Kuyavian-Pomeranian Voivode Mikołaj Bogdanowicz. Participants of the inauguration were greeted by the slogan above the entrance: "It is not enough to cross the threshold, you have to go deeper", which is a quote from the patron of the school - Holy Father John Paul II.
Voivode Bogdanowicz emphasized that thanks go to Minister Schreiber, who contributed to the support given by the prime minister. "This is an important moment for the Nakło commune and poviat. When other local governments decide to liquidate schools, the situation is different here - a magnificent building with government support was built, "pointed out the voivode.
The newly created part of the building houses five classrooms and four classrooms, adapted to the needs of the youngest users of the facility - preschoolers. They were allocated the ground floor area, the upper floors are occupied by students from grades IV-VIII and I-III respectively.
The investment also involved the extension of technical rooms - the school was enriched with equipped offices and offices, sanitary, kitchen and back-up rooms.
The building has been adapted to the needs of the disabled, and existing corridors have been widened and provide a recreational area for children.