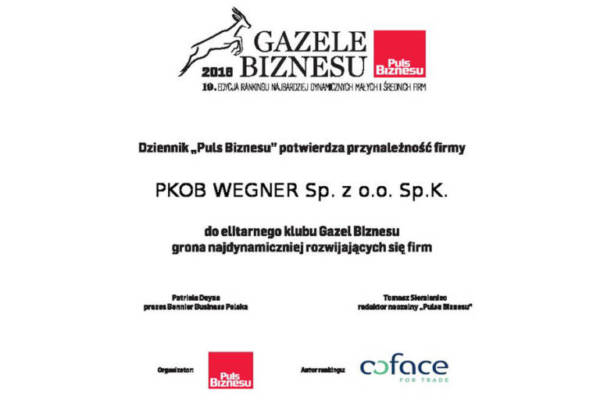 PKOB Wegner was once again honored with the title of Business Gazelle and included in the elite group of companies recording the most dynamic development in Poland.
The Gazelles of Business Ranking is a ranking of the most dynamically developing small and medium companies. The first edition of the Business Gazelles ranking took place in 2000. Gazelle is a small or medium-sized company that, thanks to its extremely dynamic development, is doing well even among much larger competitors. (source: https://www.pb.pl/) PKOB Wegner is pleased to be once again honored and included in the group of Polish Companies which after verification of financial data have been awarded the title of Business Gazelle.
The ranking is created to distinguish entities that, regardless of the economic situation from year to year, record a dynamic increase in financial results. It also aims to promote companies whose business activities are characterized by honesty and transparency.
It is worth mentioning here that PKOB Wegner in the last edition of the ranking was awarded by the Puls Biznesu publishing house with the title of Super Business Gazelle.