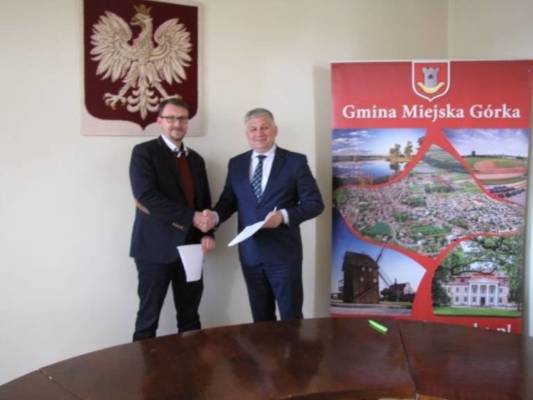 The investment includes the construction of the building, the creation of technical infrastructure, as well as the development of the area around the newly built hall.
We are happy to announce that we will build a sports and entertainment hall for the Municipality of Miejska Górka. The contract was signed on April 6 at the seat of the Miejska Górka Commune. Our company was represented by the Member of the Board, Mr. Dariusz Kaczmarek.
The sports and entertainment hall will be built at the intersection of the streets of Ignacy Busza and Maria Konopnicka, in the immediate vicinity of both city schools. There will be a sports hall with a length of 44 m and a width of 24 m, with full-size playing fields for handball, volleyball, basketball and tennis as well as stands for 204 seats. Its facilities will be a team of six changing rooms with washrooms and sanitary facilities. The room is to be used primarily by school children. The use of curtains will divide it into three parts, which will allow you to simultaneously conduct physical education classes in three groups.