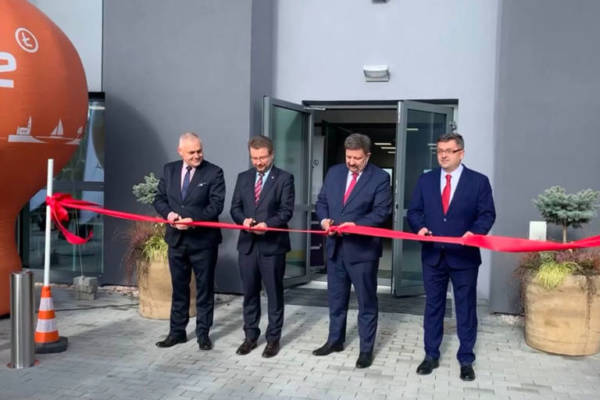 We are pleased to announce the next investment implemented by WEGNER - the construction of the new headquarters of the Provincial Road Traffic Center in Łódź.
From foundations, to external installations and equipment - several months of work, tens of tons of steel, hundreds of cubic meters of concrete, over 100 square meters of foundation blocks, thousands of square meters of concrete blocks, half a thousand square meters of ceramic tiles ... all this contributed to the implementation of the investment under name: Construction of the new headquarters of the Provincial Road Traffic Center in Łódź, at ul. Nowy Józefów 52/54, plot no. 126/2 and 126/3, precinct P-39, under the "design and build" procedure.
The investment included the construction of the WORD headquarters in Łódź together with the basic training and examination infrastructure on the property located in Łódź at ul. Nowy Józefów 52/54. The new complex consists of two main parts:
Office building with above-ground parking - A two-storey office building with a cubature of approximately 10,000 m3, usable area of ​​approximately 960 m2, within which a public area has been separated, a zone for trainees and training participants, an administrative and social zone for employees.
Examination and maneuvering area for candidates for driving licenses in the categories A, AM, A1, A2, B, B1, B + E, C, C1, C1 + E, C + E, D, D1, D1 + E , D + E, T - On the square next to the building there are parking spaces for test cars, stands for performing main maneuvers for category B vehicles and a stand for starting on a hill (so-called hill). Part of the maneuvering area designated for the "A" category includes a long track for quickly avoiding obstacles and additional spaces for the remaining exam maneuvers. The concept assumes that the hill for category B candidates will also be used by motorcyclists and the maneuvering yard for the "heavy" category, with two sets of tasks for categories "C", D, "B + E", "C + E", " D + E "," T "."
The ceremonial opening of the investment took place on October 28, 2019 in the presence of distinguished guests, including the Marshal of the Lodz Voivodship - Mr Grzegorz Schreiber, the Deputy Marshal of the Voivodship - Mr Piotr Adamczyk, the Director of the Infrastructure Department of the Marshal's Office - Mr Grzegorz Jastrzębowski and the Director of the Provincial Road Traffic Center - Piotr Romek . The solemnity of the event was additionally strengthened by the fact that before the investment was completed, the Provincial Road Traffic Center in Łódź was the only one in Poland that did not have its own seat (two facilities were previously rented).
We thank the investor for their trust and cooperation at the investment implementation stage. Good luck to all who take the exams!