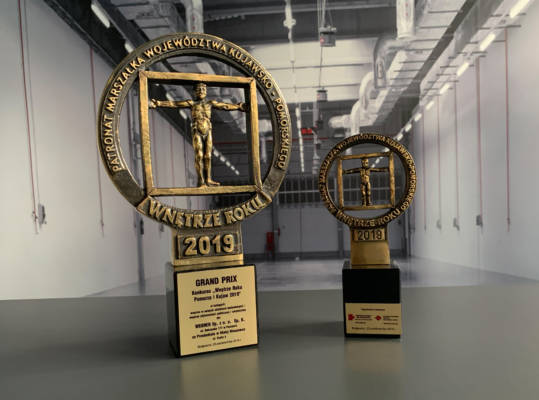 On October 25, 2019, at the Conference Room In March 1981 of the Bydgoszcz-Kuyavian-Pomeranian Voivodship Office in Bydgoszcz, ceremonial celebrations of Construction Day took place.
The ceremony was attended by many distinguished guests, among others Kujawsko-Pomorskie Voivode Mikołaj Bogdanowicz, Voivodship Marshal Zbigniew Ostrowski, MPs: Ewa Kozanecka, Piotr Król and Jan Szopiński, Deputy Mayor of Bydgoszcz Mirosław Kozłowicz,
This year's Construction Day celebrations were combined with the results of the competitions 'Construction for the Medal of Pomerania and Kuyavia 2019' and 'Interior of the Year of Pomerania and Kuyavia 2019' organized by the Pomeranian-Kuyavian Chamber of Construction.
We are proud to announce that the winners of prestigious competitions also included the WEGNER company, which won the Grand Prix Award in the "Interior of the Year of Pomerania and Kujawy 2019" competition in the category "Interior in new buildings / public interior / education". The capital of the competition decided to grant WEGNER sp.z o.o. sp. k. are prestigious awards for the interior of the kindergarten in Mała Nieszawka.
As a reminder - the investment carried out by WEGNER included the construction of a 6-ward kindergarten with a food center and allowed to create 150 new places for preschoolers. Construction of the facility took just over 6 months, and as a result of its completion, the municipality created the largest number of new preschool places in this type of facilities in the Bydgoszcz and Toruń counties.
The jury of the competition emphasized not only the very fast pace of work on the project, but also the high quality of the building and its interior in a relatively short time, as well as the importance of the building for the local community.