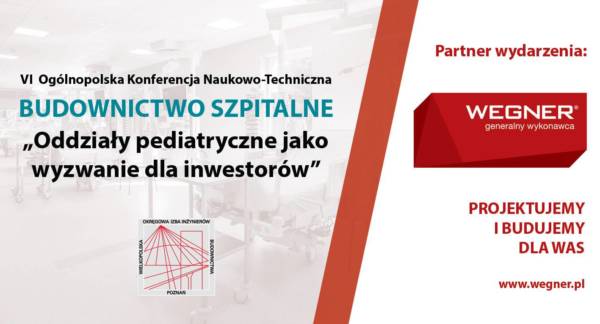 Under the slogan "Pediatric departments as a challenge for investors" today was the sixth edition of the National Scientific and Technical Conference - Hospital Construction organized by the Wielkopolska Regional Chamber of Civil Engineers, which is once again supported by PKOB Wegner.
The conference is primarily aimed at educating engineering staff and exploring the problems encountered in the implementation of health care facilities. This year's topic was related to pediatric wards, the implementation of which is a huge challenge not only for investors, but also for contractors. The choice of conference theme was the result of consultations with representatives of medical, construction and architectural circles. The programme's assumption of the Conference was to present a view on this topic by representatives of the medical world, and then information of civil engineers and architects on the technical solutions of the presented issues. During the conference, lectures were delivered by specialists from medical, nursing, pharmaceutical, architects and construction engineers in many industries.
The conference was held under the patronage of the Marshal of the Wielkopolska Region Marek Woźniak and the rector of the Medical University prof. dr hab. Andrzej Tykarski and Poznan University of Technology prof. dr hab. Eng. Tomasz Łodygowski.