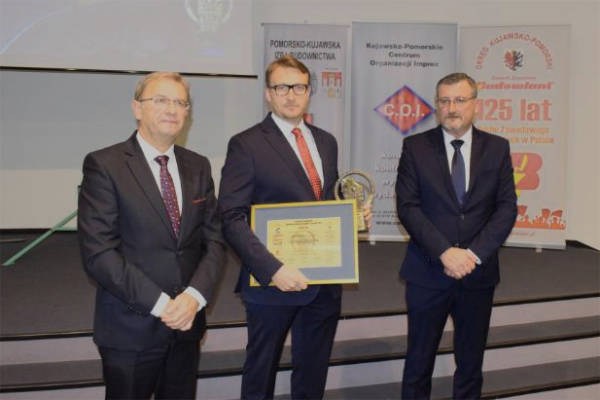 The jury of the competition "Construction for the Medal of Pomerania and Kujawy" for the twenty-first time awarded the Grand Prix statuettes for the best construction of the region. The award ceremony was held in the  and Kuyavian-Pomeranian Voivodeship Office building.
Deputy Governor Józef Ramlau said that he enjoyed the successes of the construction industry in the region, but also the dead barriers that construction is facing. - Construction is a field that involves other fields. Construction is perceived by economists as a kind of economic barometer - said the voivode Józef Ramlau, and added that the industry does not fully use the central location of our region in the country.
The nomination and the GrandPrix statuette during the gala competition ceremony were received on behalf of the Company by the Vice President of the PKOB Wegner Management Board - Mr. Dariusz Kaczmarek. - We are very proud of the fact that the "Construction for Medal" chapter has once again honored one of our projects. This makes the  region of Kuyavian-Pomeranian voivodeship more and more closer to us, and the awareness that our work is appreciated here gives us even more motivation for further implementations in the Kuyavian-Pomeranian region - said the Vice President during the gala.