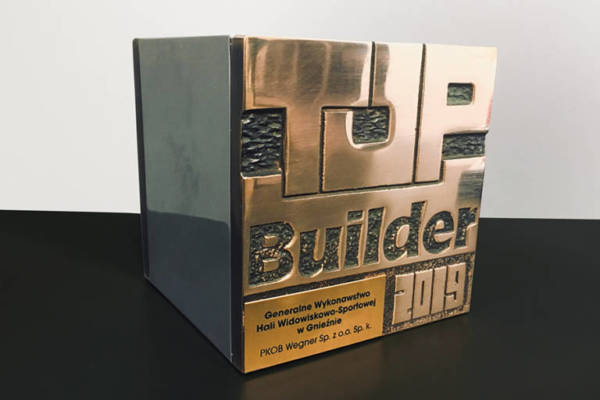 Wegner was honored with the title of TOP Builder 2019 for the general contracting of the Sports and Entertainment Hall in Gniezno.
Top Builder is one of the most valued awards on the Polish construction market. The jury awards the TOP Builder statuette of the highest quality products, construction solutions and projects in which modern architectural, construction, material and technological solutions have been used, as well as IT products used in architecture and construction.
The TOP Builder title and statuette also rewards financial services and products as well as projects, initiatives, programs and projects dedicated to the construction industry. The award gala took place at the headquarters of the Association of Polish Architects in Warsaw.
This year's edition was the 11th edition of the plebiscite. Wegner - received a distinction in the "General Investment Contractor" category - for the construction of the Sports and Entertainment Hall GOSiR. This year, awards for Public Investors were also given out for the first time - in this case the Gniezno Sports and Recreation Center was also awarded, which is not only the main user of the Hall, but was also the Investor of the said facility.